Can Babies Ride in Golf Carts?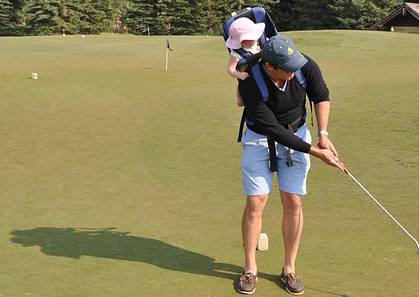 Golf carts seem like relatively safe vehicles — after all, they don't go very fast. Many people assume that it's perfectly fine for a child, or even a baby, to ride in a golf cart. The truth is, golf carts can be dangerous, especially for kids. Here's what you need to know.
The Dangers of Golf Carts to Children
Golf carts are prone to rolling over in accidents, causing passengers to be thrown from the vehicle. Young passengers may fall from golf carts while riding in them due to the lack of adequate safety belts, causing serious injury. Nationwide Children's Hospital in Columbus, Ohio reports that one-third of golf cart injuries are to children under the age of 16.
Falls and ejections from golf cart result in a disproportionately high number of head and neck injuries, many of which are fatal or disabling.
Babies Are Especially Vulnerable
Babies are particularly vulnerable in golf carts because there are no adequate safety harnesses equipped for children under the age of six. Babies should always be belted into a rear-facing carseat, ideally using anchors built into the vehicle's frame for this purpose. These anchors don't exist in golf carts, and it's impossible to properly belt in baby's car seat at all, let alone to face the rear.
This leaves most people simply holding babies they wish to ride in the golf cart. They assume that the cart goes slow enough that they'll be able to maintain their hold on the child in the event of any minor issues. Unfortunately, even a small bump can jolt the cart, causing the baby to be thrown from the person's arms. If the cart is involved in an accident, a baby is completely unprotected from the force of the collision.
Golf Cart Safety Tips
To ensure the safety of children riding in a golf cart, follow these simple tips:
Never allow a baby or children under the age of 6 to ride in your golf cart.
Do not allow drivers under the age of 16, or those who are untrained, to operate the cart.
Make sure your golf cart is equipped with safety belts and all-wheel brakes.
Injured in a Golf Cart Accident? Call an Attorney Today
If you or a loved one were hurt in a golf cart accident, don't wait to get legal help. Contact Frank D. Butler today for more information or to schedule a consultation by calling 1-800-253-2531.