Shocking Number of "Freak" Golf Cart Accidents Occur within Past Week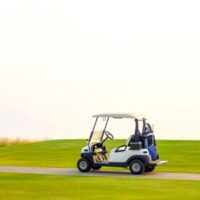 As a number of recent incidents have clearly highlighted, much can go wrong when someone operates a golf cart. Freak accidents are strangely common, and the frequency of these incidents suggest that they might not be as rare as they initially seem. There must be some kind of common denominator associated with unexpected golf cart crashes – especially when many such accidents occur within the space of a single week. In many situations, this common denominator is negligence.
Aircraft Collides with Golf Cart 
The average person does not expect to collide with an aircraft while driving a golf cart, but this is exactly what happened to one woman in Indiana. On November 5th, it was reported that the woman's golf cart was knocked over by some kind of experimental aircraft. The woman was rendered unconscious by the impact, and she was airlifted to a nearby hospital. This incident apparently occurred at an airport, and the woman was trying to film the aircraft as it was landing.
Cricket Athlete Injured after Freak Golf Cart Accident
On November 1st of 2023, it was reported that a member of the Australian national cricket team had suffered a freak accident involving a golf cart – causing him to miss an upcoming match. Apparently, he fell off the back of the cart and struck his head on the ground. While this has been described as a freak accident, it is actually quite common. Unfortunately, this type of accident can even lead to fatalities – especially among small children. In truth, this athlete is lucky to have escaped with relatively minor ailments.
Victim Becomes Trapped Under SUV after Golf Cart Crash 
On November fourth, it was reported that two people had suffered serious injuries after crashing their golf cart into an SUV. One of these victims ended up trapped underneath the vehicle. While this might seem like a freak accident, it is well within the realms of possibility in a crash involving a golf cart and an SUV – especially when you consider the lack of restraints and safety features on an average golf cart.
Teen Airlifted to Hospital After Golf Cart Hits Pothole 
Even a minor pothole can cause serious injuries for those operating and riding in golf carts. Such was the case on November 2nd, when it was reported that a teen girl had to be airlifted to a hospital after being ejected from a golf cart. According to the report, the driver of the golf cart swerved to avoid a pothole, causing the 13-year-old girl to fall onto the road. She apparently suffered a serious head injury, but was later reported to be in a stable condition.
Where Can I Find a Qualified, Experienced Golf Cart Crash Attorney? 
If you've been searching for a qualified Florida golf cart accident attorney who can help with golf cart crashes, look no further than www.GolfCartAttorney.com (Frank D. Butler, Attorney at Law). Over the years, we have helped numerous injured plaintiffs throughout Florida, and we have considerable experience with golf cart accidents in particular. Book your consultation today to determine whether or not you might be able to pursue compensation.
Sources: 
fox59.com/news/a-plane-has-crashed-in-kokomo/
hindustantimes.com/cricket/glenn-maxwell-concussed-bruised-after-falling-from-golf-cart-in-freak-accident-ruled-out-of-england-match-101698831026451.html