Florida Halloween Event Involving Golf Cart Injures Six Children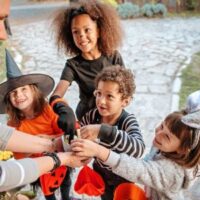 At least six children suffered injuries in a Florida golf cart accident this Halloween weekend, sparking renewed concerns about minors and golf carts. It seems that many children are being allowed to drive these vehicles in a highly negligent manner without any adult supervision whatsoever. This obviously creates safety issues not only for the children, but also for any innocent bystanders. In this specific case, however, the children were not operating the vehicle when it injured them. What can you do if you have been injured in a Florida golf cart crash?
"Halloween Event" Goes Wrong in Kissimmee
 On October 28th, it was reported that a "Halloween event" in Kissimmee had left six children injured. The event included a specially decorated golf cart that served as a backdrop of sorts – giving children the opportunity to take Halloween-themed photos in front of the vehicle. However, this seemingly innocent photo op went horribly wrong when the vehicle somehow slipped into reverse.
The children standing in front of the cart were then struck by the reversing, driverless vehicle. At least one child was apparently standing on top of the golf cart when it suddenly lurched backward. The extent of the injuries is not exactly clear, but at least one child was flown to a nearby hospital for immediate treatment. An investigation has been launched by the police, and more details may emerge in the coming weeks.
It seems unthinkable that a golf cart would simply "slip into reverse." Could it be that the event organizers had mistakenly left the cart in neutral? Did someone forget to activate the parking brake? Even if the vehicle did somehow slip into reverse, one would assume that the cart would not suddenly lurch backward in this manner unless the engine was running. Some degree of negligence is obvious. The real question is who was at fault. At present, it seems as though there are two main possibilities: Either the event organizers made some kind of error, or the golf cart was defective in some way. Both may be true.
The Number of Children Injured in Golf Cart Crashes Is Worrying 
The number of children injured in golf cart crashes is worrying, and these incidents seem to be increasing throughout the nation. Some of the accidents have claimed the lives of minors. While children may drive golf carts unattended in some situations, some of the most common injuries and deaths involve children falling from carts operated by adults. Only two weeks prior to this Halloween disaster, a six-year-old died after falling from a golf cart in South Carolina.
Where Can I Find a Qualified, Experienced Golf Cart Lawyer in Tampa? 
If you have suffered an injury due to a golf cart crash in Tampa, you may be eligible for compensation. Speak with a qualified, experienced golf cart accident attorney in Florida to discuss this matter further and assess the most appropriate course of legal action. Choose www.GolfCartAttorney.com Frank D. Butler, Attorney at Law to work with a lawyer who has extensive experience specifically with cases involving golf cart crashes. Reach out today to get started.
Sources: 
wesh.com/article/children-hurt-golf-cart-accident-kissimmee-halloween/45672751
wyff4.com/article/child-killed-golf-cart-accident/45559485