Top 10 Golf Communities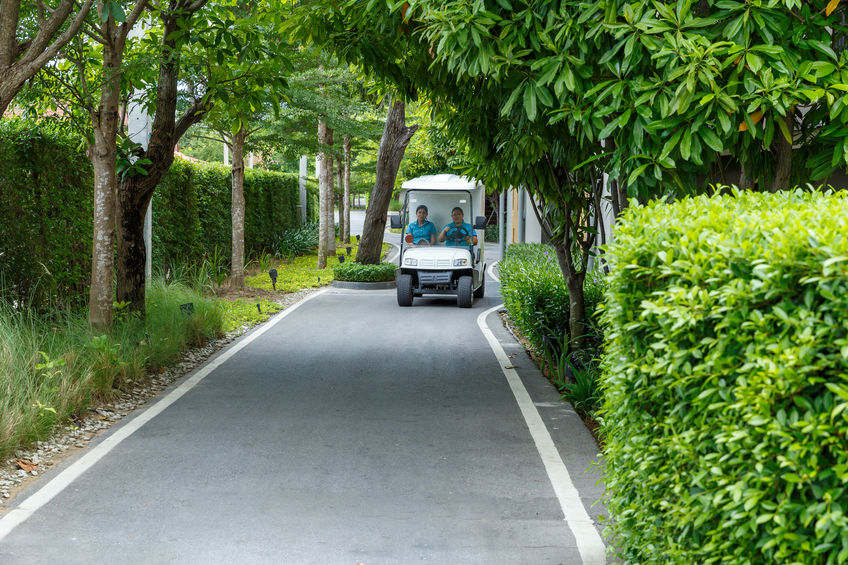 Florida Golf Communites
Living in a golf community can be the perfect way to not only enjoy playing your favorite sport often, but also to enjoy living in a luxurious, beautiful community. Here are the top 10 golf communities in Florida.
1. Lake Nona, Orlando
Lake Nona homes go for $1 million or more, and the tight-knit community sports several schools, restaurants, parks, fitness centers, medical centers, and a VA and children's hospital. When you live in Lake Nona, there's not much reason to leave — everything you need is just minutes away.
The Lake Nona Golf & Country Club is the main attraction, with a stunning 18-hole course designed by Tom Fazio.
2. Isleworth, Windmere
Isleworth is focused on providing the ultimate recreation for residents, with amenities like resort-style pools, water sports, tennis courts, a fitness center, spa, and even youth activities. When not having a blast enjoying the amenities, residents can play on the 18-hole championship golf course originally designed by Arnold Palmer and upgraded by Steve Smyers. Homes in the Isleworth community start at $1.5 million.
3. Old Marsh, Palm Beach Gardens
Old Marsh prides itself in offering some of the finest real estate options in Palm Beach, with homes from $1.7 million and up. Membership to the Old Marsh Golf Club is by invitation only, and members enjoy access to the community's crowning achievement: a gorgeous 7,000 acre, 18-hole championship course designed by Pete Dye.
4. Mirasol, Palm Beach Gardens
The Mirasol Country Club boasts a clubhouse to rival all others. Residents enjoy their own library, both casual and fine dining, expanded ballroom, bars and lounges, and mens, ladies, and co-ed card rooms. Homes go from $1.7 million, and residents can find fitness options, activities, and more everywhere they look. The only things that overshadows Marisol's lush landscaping and many amenities are the two 18-hole championship golf courses, for a total of 36 challenging holes.
5. Old Palm Golf Club, Palm Beach Gardens
The Old Palm Clubhouse is rich with 1920's inspired architecture and is inspired by intimacy versus grandeur. A men's lounge and a women's lounge are elegant and warm, and staff are available to meet any request. Full spa treatments, fine dining, and more are enjoyed by Old Palm members. Homes in this area run approximately $1.7 million. Golf lovers can enjoy premier golf instruction, or simply play the game they love on the club's lush 18-hole course.
6. John's Island, Vero Beach
John's Island community was designed with just 1,380 residential properties with an acre per property, and each home goes for around $1.9 million. 32 miles of private streets, a health and fitness center, a spa, multiple casual and fine dining options, and regular activities make John's Island a great place to live.
Travel & Leisure Golf named John's Island among the top 25 golf communities, and it boasts three championship golf courses designed by Jack Nicklaus, Tom Fazio, and Pete Dye.
7. The Medalist Golf Club, Hobe Sound
Medalist Village is the smart, sleek residential community that boasts luxurious homes around $1.9 million. There are only 119 residences, making this community more intimate than others. An authentic Aussie Pub and wellness spa are just two of the best clubhouse amenities. Medalist Village offers its own 12-hole golf course for players of all skill levels, and right next door is the renowned Greg Norman designed 18-hole golf course.
8. The Concession, Bradenton
The Concession is a stunning golf club and residential area, with $2 million homes designed to be beautifully luxurious with every creature comfort. The 33,000 square foot golf club offers a variety of amenities, including fine dining and tapas, and a course to rival all others in Florida. The Concession's practice area was named by Golf Digest as one of the best 75 in the country, and the Jack Nicklaus Signature Course is a dream to play on.
9. Grey Oaks, Naples
Estate homes and condominiums at Grey Oaks are nestled deep within Florida's beautiful greenery and go for upwards of $2.5 million. The community offers fine dining and a famous seafood buffet, a golf shop, two state-of-the-art fitness centers, a luxurious pool with cabanas and a waterfall, a full-service spa, and two lush parks. Grey Oaks offers three esteemed 18-hole courses, a treat for the true golf enthusiast.
10. The Bear's Club, Jupiter
The Bear's Club, founded by Jack Nicklaus himself, is for the most discerning homeowner and golf enthusiast. With white glove concierge service from move-in to maintenance, The Bear's Club spares no expense. Located near fine dining, world-class shopping, and more, being a resident has more than just perks. The grand clubhouse offers 40,000 square feet of five-star service, fine dining, and more. Homes run upwards of $2.6 million, and are situated perfectly around the Jack Nicklaus designed 18-hole championship golf course.
Top 25 Golf Courses in Florida
Golf Digest regularly reviews the best golf courses across the nation. For discerning golfers, where you play is just as important as how well you play. Here are the top 25 golf courses in
Florida.
1. Indian Creek C.C., Miami Beach
Only members and guests can tee up at the stunning 1930's golf course, designed by the esteemed William S. Flynn. The course measures 6,600 yards with a mixture of long and short holes that pose a real challenge. The hole to beat is the 9th, a par 4 at 470 yards.
2. Trump National Doral, Miami (Blue Monster Course)
The Blue Monster golf course at Trump National Doral Golf Club has hosted PGA events for over 55 years. The Gil Hanse designed course features 7,608 yards with a number of strategic challenges for even the most seasoned golfer. The 18th hole — a par 4 at 473 yards — was named by Golf Magazine as one of the top 100 golf holes in the world.
3. The Dye Preserve G.C., Jupiter
St. Augustine grass gives this Pete Dye designed course a lush backdrop, along with bald cypress trees and crushed seashell pathways. The most challenging holes here are the par 3 13th and 17th holes, at 207 and 240 yards respectively.
4. John's Island Club (West), Sebastian
John's Island West is a Tom Fazio designed, 6,819-yard course and can only be accessed by members and their guests. The holes here are challenging for even the most seasoned golfers, but the one to pay attention to is the par 5 4th, with obstacles like trees, acres of sand, and sand ridges galore.
5. TPC Sawgrass (Dye's Valley), Ponte Vedra Beach
The sister course to the world-famous Stadium, Dye's Valley was designed by Pete Dye, Bobby Weed, and Jerry Pate. With water on every hole, this course is both stunning and challenging, and was ranked #21 in Golfweek's "Best Courses You Can Play" in 2018.
6. Isleworth G. & C.C., Windermere
Isleworth opened in 1986, originally designed by Arnold Palmer. The course was redesigned completely by Steve Smyers in 1994 to create 7,544 yards of tough yet thrilling challenges. The picturesque course is always immaculate and ready to play.
7. Naples National G.C.
Designed by Dr. Michael Hurdzan and Dana Fry, this golf course is close to perfection. No gimmicks, just pure love of the game. Each hole on this 7,000 yard course has a number of different shot options and can be played by golfers of nearly any skill level.
8. Floridian National G.C., Palm City
This course measures over 7,000 yards and boasts 18 holes of bold bunkering and risk-reward opportunities. The best holes to play are the closing holes on both loops of the 9th, where the waterside setting offers a thrilling challenge. Tom Fazio revamped the course in 2011, adding his signature architecture.
9. Loblolly G.C., Hobe Sound
The Pete Dye designed course opened in 1988 next to a wildlife refuge, providing the perfect backdrop to a number of unique challenges. The best holes to play are the right doglegged 4th hole at 457 yards, and the 6th hole with a whopping 576 yards with a near right angle to a green protected by a water hazard.
10. Pine Tree G.C., Boynton Beach
Dick Wilson designed this nearly flat course in the 1960's and to this day it remains one of the most private and prestigious courses in Florida. One might think a flat course is easy to play, however, strategically placed bunkers and irregularly shaped obstacles prove otherwise.
11. Pablo Creek Club, Jacksonville
The 7,000 yard Tom Fazio designed course is home to a number of water hazards — and alligators. This course boasts more landfall than other courses in Florida, and the best hole to play is the 12th — one of four par threes that are absolutely thrilling.
12. McArthur G.C., Hobe Sound
This stunning Tom Fazio and Nick Price designed course sits on 1,000 acres of beautiful sugar sand, and makes its way through four different Flordian ecosystems — hardwood hammock, sand pine scrub, barrier dunes, and prairie wetlands. There are no residential properties or development around the course, so the McArthur course is perfect for golfers who seek seclusion.
13. Black Diamond Ranch (Quarry), Lecanto
Another Tom Fazio design, the Black Diamond Ranch's Quarry course offers breathtaking views and unique challenges. The best holes to look forward to are the 13th through the 17th. The 15th hole is a spectacular creation, with the tee over 75 feet above the fairway and water hazards that stretch across the entire left side of the green. The 17th hole is a par 3 at 204 yards that requires perfect accuracy.
14. Mountain Lake Club, Lake Wales
Mountain Lake dates back to 1915 and truly captures the love of the game. Originally designed by Frederick Law Olmsted, Ryan Silva restored the property in the new millenium. Silva discovered lost Seth Raynor greens and bunkers, and now this hidden gem can call itself a classic Seth Raynor course.
15. Medalist G.C., Hobe Sound
Designed by Greg Norman and Pete Dye, the Medalist Golf Course is one you don't want to miss. Although some of Dye's original design was altered by Norman later on, the course still features broad fairways, great recovery shots, and a firm turf from which to play.
16. Old Memorial G.C., Tampa
The Old Memorial golf course in Tampa was commissioned by the founders of the Outback Steakhouse and designed by Steve Smyers in 1996. There's a great deal of variety to the setting with open land, natural lakes, and stunning woodlands. The course is walking only on over 300 acres of land.
17. Trump International G.C. (Championship), West Palm Beach
The Trump International golf course boasts 27 holes designed by the esteemed Jim Fazio, but the course you don't want to miss is the Championship. There are 6 tees per hole to choose from, and the entire course spans 7,300 yards. Lakes are over 50 feet deep and trees were relocated to the course to create both scenery and unique obstacles. Waterfalls and streams complete this picturesque but challenging course.
18. The Bear's Club, Jupiter
The Bear's Club is one of the most private, esteemed golf clubs in Florida, and the club and its course were designed by none other than Jack Nicklaus himself. Using sand imported from Ohio that won't wash away during Florida's harsh weather, Nicklaus created high-banked bunkers that pose quite the challenge. It's a championship course designed for private play.
19. The Concession G.C., Bradenton
The Concession golf course sits on a 1,200 acre property with a private residential community. Jack Nicklaus and Tony Jacklin designed the course to honor the legendary moment when Nicklaus conceded a two-footer to Jacklin on the 18th hole of the Ryder Cup in 1969, resulting in a tied match. The practice facilities are rumoured to be among the best, and the course itself is a true golfing gem.
20. Jupiter Hills Club (Hills), Tequesta
George and Tom Fazio designed two stunning courses for the Jupiter Hills Club, the Hills being Fazio's favorite course of all time. There are 60 feet of elevation between the lowest and highest points in the course, and the hole to play is the par 3 11th, with 6 tees and between 100-200 yards.
21. Streamsong (Blue)
The Streamsong Resort is 16,000 acres of pure golf heaven, and boasts three stunning courses — Blue, Red, and Black. Tom Doak designed the Blue Course, which is situated at the center of the property. The holes to play here are the par 3 7th with gorgeous contoured green, and the par 4 13th hole, which offers an excellent risk/reward opportunity.
22. Streamsong (Red)
The Streamsong Red course was designed by Bill Coore and Ben Crenshaw at about the same time that Tom Doak was building the Blue course. This course routes around the property's periphery and boasts more challenging water hazards than its sister course. The hole to beat here is the par 3 16th, with 200 yards over water hazards to a Biarritz green.
23. Calusa Pines G.C., Naples
Calusa Pines was designed by Dana Fry and Michael Hurdzan, and is not only sheltered by pines but also by a tight membership policy. The $150,000 membership fee ensures that only the elite and their guests get to play at this prestigious course, which sits on the highest point of land in south Florida.
24. TPC Sawgrass (Players Stadium), Ponte Vedra Beach
Pete Dye designed this stunning golf course in the late 1970's, and over the years the course has undergone many renovations. With water hazards abound, this course is one of the most challenging out there, and there are plenty of risk/reward opportunities for the aggressive player.
25. Seminole, G.C., Juno Beach
Designed in the 1920's by Donald Ross and Dick Wilson. Cleverly angled greens are combined flash-faced sand traps and shallow bunkers that create complexity and confusion for the golfer. In 2016, Ben Crenshaw and Bill Coore renovated about a hundred bunkers, and the golf course now stands as one of the best in the state of Florida. The 11th and 14th holes are uphill shots, and the par 4 12th requires an all-carry second shot.