CAN A GOLF CART LEGALLY DRIVE ON U.S. 441 OR U.S. 301 IN THE VILLAGES?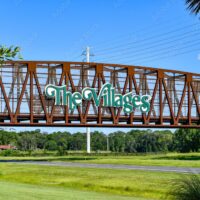 The Villages News recently ran a story (July 15, 2023) which showed a photo of a golf cart on U.S. Highway 301 near S.R. 466. The full story is here at the following link. Villager takes golf cart for a ride down U.S. 301 – Villages-News.com So, can a golf cart legally drive on U.S. Highway 441 or on U.S. Highway 301, even in the Villages? No. Here is why. See below.
The first thing is to know is whether you have a golf cart, which by law is only allowed to travel at speeds up to 20 m.p.h.  Golf carts—not to be confused with golf cars or low-speed-vehicles ("LSVs")—are only permitted on roads where the speed limit is 30 m.p.h. or less. On the other hand, golf cars/LSVs are limited to speeds of 25 m.p.h. and are permitted on roads where the speed limit is no more than 35 m.p.h.   But that does not mean the golf carts and LSVs can travel anywhere the speed limit is under 30 m.p.h. for golf carts or 35 m.p.h. for LSVs; the local municipalities have authority to designate golf-cart accessible roads and prohibit the roads where the local governments do not permit golf cart travel. So, golf carts are not even legally permitted to be on local roads that have not been designated by the local government as golf-cart accessible.
Also, it is important to note that the Florida Department of Transportation retains the authority to reject a golf-cart accessible road if it deems the road as unsafe for golf cart travel. Yes, the law does allow for a golf cart or LSV to cross over a road where there is a speed limit high than the governing 30 and 35 m.p.h., but those cross-over areas will be in places where the local municipality has designated the cross-over location. There are also some limited exceptions for cross-overs—but those are typically going to be more rural settings—where the Florida DOT allows immediate straight-line cross-overs to get into communities.
So, to the issue of whether a golf cart may travel on U.S. Highway 441 or U.S. Highway 301, it does not depend on whether the "golf cart" has brake lights and headlights, turn signals, a license plate, etc. that is required of the faster LSVs. There is no authority for a golf cart or LSV to travel down U.S. Highway 441 or U.S. Highway 301. The Commenters to the story above in The Villages News are mistaken to the extent they suggest having the license plate and brake lights, etc., means a golf cart or LSV could travel down Highway 441 or Highway 301. The law says NO and the logic is faulty; if that were the state of the law then golf carts would legally be permitted on I-75, but they aren't.
Don't leave your The Villages golf cart injury case to speculators. We have been handling golf cart injury cases for 25 years. We know the laws that apply to golf carts and LSVs.  Contact our office located right next to the Ale House on U.S. 441.