How to Pursue Compensation for a Malfunctioning Golf Cart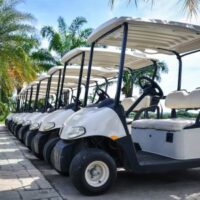 Compared to road vehicles, it is much easier to build a golf cart. The overall machinery is less complex, and there are fewer safety systems that need to be added. Because of this, many manufacturers are flooding the golf cart industry with faulty and dangerous vehicles. If you have experienced a golf cart malfunction firsthand, you already know how dangerous these situations can be. Numerous golf carts have been recalled over the years due to these issues. But how exactly can you pursue compensation for a malfunctioning golf cart? Let's find out:
Golf Carts Are Constantly Being Recalled 
The first thing you need to know is that golf carts are constantly being recalled for a range of dangers and risks. Back in February of 2023, E-Z-Go golf carts were recalled across the nation – with the manufacturer admitting that these vehicles had serious fire risks. As it turned out, the electrical board had a tendency to overheat and catch fire – putting users in real danger. In total, about 143,000 golf carts were recalled due to this hazard. Although no injuries were reported, this certainly shows how dangerous golf carts can be – often without users realizing it.
Later in May of 2023, a company called Advanced EV was also forced to recall numerous golf carts due to safety risks. These vehicles were missing rubber grommets on their front seats, exposing the operators and passengers to fall and injury hazards. There were at least two reports of users becoming injured, and these accidents involved lacerations, scratches, and bruising.
In March of 2023, a company called Textron was forced to recall about 34,000 golf carts because of injury risks associated with faulty steering columns. This defect has the potential to cause crashes and serious injuries. Apparently, the company had received 335 reports of broken steering columns. At least of these incidents resulted in injuries.
How to pursue compensation 
If you have been injured due to an accident associated with one of these golf cart companies or any other defective golf cart, you can pursue compensation. This falls under the general category of product liability, and a claim of this nature allows you to hold the company accountable for negligently manufacturing a defective product. Contact a lawyer who has experience with golf cart injuries to move forward in an effective manner. You could receive compensation for your injuries.
Where Can I Find a Qualified, Experienced Golf Cart Injury Attorney in Florida? 
If you've been searching for a Florida golf cart injury attorney, look no further than the (www.GolfCartAttorney.com)  Law Offices of Frank D. Butler, P.A. Over the years, we have helped numerous injured plaintiffs who have suffered tremendous harm in golf cart injuries. We have specific experience with these kinds of incidents, and we can guide you toward the compensation you need and deserve. Book your consultation today to get started with an effective action plan.
Sources: 
pennlive.com/nation-world/2023/02/e-z-go-golf-carts-recalled-because-electronic-board-can-overheat-start-a-fire.html
fox23.com/news/trending/recall-alert-textron-recalls-about-34k-golf-carts-amid-crash-injury-risks/article_6912dc8e-a81a-56bd-b22a-cf72185b418e.html
cpsc.gov/Recalls/2023/Advanced-EV-Recalls-Advent-4-and-6-Passenger-Golf-Carts-Due-to-Fall-and-Injury-Hazards-Recall-Alert