Common Golf Cart Injuries – And How to Pursue Compensation for Them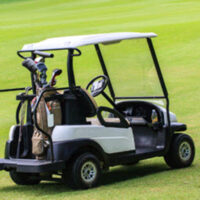 Golf carts are much more dangerous than most people realize. Although these vehicles might seem slow and unassuming, the truth is that they pose numerous safety hazards. Even if you take it upon yourself to operate your golf cart in a safe, sober, and responsible manner, golf cart injuries can still occur on a typical Florida golf course, or on roads designated as golf cart accessible. But what kinds of injuries are most commonly associated with golf carts? Perhaps most importantly, how can you pursue compensation for these injuries? The GolfCartAttorney can help you learn more:
Head Injuries 
According to the most recent statistics, a significant portion of golf cart accidents result in head injuries. Of all the golf-cart-related injuries that occur each year in the United States, over 11% result in head injuries. These injuries include concussions, traumatic brain injuries (TBIs), brain bleeds, brain damage, and much more.
Head injuries can drastically affect your life, changing your personality, your mental health, your motor control, your memory, and your cognitive functioning. This not only leads to mental health concerns, but it can also affect your relationships, your career, and your general ability to live a normal life. According to the statistics, TBIs are especially common among children who become injured in golf cart accidents.
Soft Tissue Damage
 According to one study, the most common injury in a golf cart accident is soft tissue damage. These injuries make up almost 50% of all golf-cart-related medical concerns. Soft tissue damage includes sprains, strains, contusions, and other injuries that affect the muscles, tendons, and ligaments. Although these injuries might not be as serious as others, they still have the ability to cause medical bills and missed wages. In addition, soft tissue golf cart injuries can involve back injuries, neck injuries, abrasions, cuts, etc. There is no reason to simply accept these losses without fighting for your rights alongside a personal injury attorney.
Fractures 
Fractures are common among victims of golf cart accidents, especially with children. One study found that over 75% of child golf cart victims sustained at least one bone fracture. These fractures often affect the arms and legs, as victims attempt to cushion their falls after being ejected from golf carts. It goes without saying that these fractures can be very serious and life-altering.
How to Pursue Recovery 
In order to recover damages for your golf cart injury, we need to prove that another party was responsible for your golf cart crash and your injuries. Negligent parties may include:
Golf cart manufacturers
Golf cart drivers in the host golf cart
Golf cart drivers in other golf carts
Golf course owners
Automobiles
Pedestrians, bicyclists, motorcyclists
As your Golf Cart Attorney we can help you prove the negligence of these parties.
 Where Can I Find a Qualified, Experienced Golf Cart Injury Attorney in Florida? 
If you've been searching for a qualified, experienced Florida golf cart injury attorney, look no further than (www.GolfCartAttorney.com) The Law Offices of Frank D. Butler, P.A. We have extensive experience with golf cart injury lawsuits, having helped numerous victims across Florida with this specific issue. Contact us as soon as possible, and we can use our extensive experience in this area to get you started with an effective action plan. Remember, your lawsuit could lead to compensation for your medical bills, missed wages, injuries, emotional distress, and much more. Get in touch today.
Sources: 
news.yahoo.com/hancock-county-couple-suing-golf-110000981.html?guccounter=1&guce_referrer=aHR0cHM6Ly93d3cuZ29vZ2xlLmNvbS8&guce_referrer_sig=AQAAAC1FaTO6RYkKG3ER1LcBEmRfUoznr8GyC17pB8BNxzbl-YwRs08ESiheXeaknWywCENaUzb7kWctGf6mcpM84nVOlT1ULVEt1cYSmDMyRz7jPpZD_xYYbdIKhipwR2Z9G1J73EuF2Dcr85BSqBEA5Vp6G6AgD7ob5TMRoiyf2A-Z
pubmed.ncbi.nlm.nih.gov/18541177/