Golf Cart Driver Suffers Serious Injuries After Collision with Vehicle in The Villages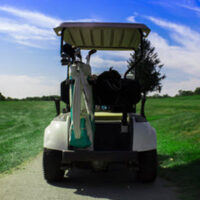 When a golf cart and a passenger vehicle collide, it's easy to imagine which vehicle will come  out worse. A golf cart is small, lightweight, and designed primarily for low speeds. A passenger vehicle, on the other hand, is built for much higher speeds and features a more robust design with various safety features. Unfortunately, golf carts and passenger vehicles collide regularly in places like The Villages, and golf cart occupants typically suffer terrible injuries as a result. One such incident recently sent a golfer to the hospital in critical condition.
Golf Cart Driver Critically Injured After Collision with Road Vehicle 
On June 6th of 2023, it was reported that a golf cart driver had suffered "traumatic injuries" after a collision with a road vehicle. The accident took place in The Villages, a municipality known for its many golf courses. The collision was so intense that the golf cart flipped over onto its side. Not much further information was revealed, although the Florida Highway Patrol is continuing to investigate the incident.
Who Is to Blame After a Golf Cart Collides with a Road Vehicle?
 Initially, there is no need to assign blame after a road accident. This is due to Florida's no-fault insurance system if your golf cart is covered by this insurance. Essentially, you can file a claim without going to court – and you don't even need to establish that someone else caused your crash if no-fault insurance applies to your case. But while this system might provide enough compensation for minor to moderate injuries, the policy minimums may not be enough to cover more serious injuries.
In addition, victims may need to determine whether their car insurance covers them while they are driving golf carts. Florida requires all street-legal vehicles to have liability insurance, so you may need to figure out whether the golf cart qualifies as a "low-speed vehicle." A low-speed vehicle must be insured with at least $10,000 of Personal Injury Protection coverage.
It should also be determined whether or not the golf cart was allowed on the road at the time of the accident. Some roads have specific subdivisions designed for golf carts, while others are clearly not intended for use by these low-speed vehicles. What laws apply to golf carts and where they can operate and the type of equipment required are all subjects that your golf cart attorney needs to know. These potential challenges illustrate the importance of working with a qualified, experienced  golf cart injury attorney in Florida after a golf cart accident.
Where Can I Find a Qualified, Experienced Golf Cart Attorney in The Villages? 
If you have been injured in a collision between a golf cart and a road vehicle, be sure to get in touch with a qualified, experienced Florida golf cart accident attorney. Choose a lawyer who has specific experience with golf cart injuries, such as the (www.GolfCartAttorney.com) Law Office of Frank D. Butler, P.A. Over the years, we have helped numerous golf cart victims, including those who have collided with road vehicles. With our help, you can pursue compensation for medical expenses, missed wages, emotional distress, and any other damages you might have been forced to endure. Reach out today to get started.
Sources: 
villages-news.com/2023/06/06/golf-cart-driver-traumatically-injured-in-collision-with-vehicle/
flhsmv.gov/safety-center/consumer-education/low-speed-vehicles/