HOW FAST CAN A GOLF CART LEGALLY GO IN THE VILLAGES?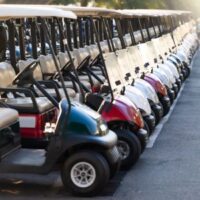 There are two answers to this question and it depends upon what type of "golf cart" you are driving. The term "golf cart" is used generically by the public, but under Florida law there are 2 separate categories of golf carts. First there are those carts which are designed primarily for use on a golf course and are specifically referred to as "golf carts" in Florida law.  Golf carts have been defined in Florida Statute 320.01(22) as "a motor vehicle that is designed and manufactured for operation on a golf course for sporting or recreational purposes and that is not capable of exceeding speeds of 20 miles per hour." So, the first answer to: How Fast Can A Golf Cart Legally Go In The Villages is 20 mph for a golf cart. See this link: section 320.01(22), Florida Statutes.
One related point here is: where those golf carts can be operated. Golf carts can be operated on roadways that are designated for golf carts with a posted speed limit of 30 mph or less. The location you on which you can legally drive your golf cart has to be approved by the city, municipality, or in The Villages, and so are designated as golf cart approved streets.
The second answer about speed in The Villages pertains to the second type of "golf cart" and what Florida law classifies as Low Speed Vehicles or "LSVs". A LSV is a golf cart capable of going 25 mph. See Section 320.01(41), Florida Statutes, which literally defines LSVs as "any four-wheeled vehicle whose top speed is greater than 20 miles per hour, but not greater than 25 miles per hour."  Therefore, the answer to the question about maximum speed for a LSV in The Villages is a maximum of 25 mph. But if you live in The Villages you can witness LSVs which have the capability to greatly exceed 25 mph. Here are 2 reasons why that may not be a good idea. One is of course the law enforcement side of things where the driver can end up with a speeding ticket. The second consideration is potentially more serious.  If an accident involves a modified LSV it is possible that the insurance company for that owner/driver will try to deny coverage for any injuries or property damaged caused by the modified LSV.
Some other points to remember about LSVs in The Villages:
LSVs can be operated on streets where the speed limit is no more than 35 mph, and the street has to be designated by the city, municipality, or The Villages as a "golf cart" accessible street.
Second, LSVs have to be registered with the State of Florida just like a car. LSVs must have a title and must have at least No-Fault and Property Damage insurance. We at www.GolfCartAttorney.com also highly recommend you add Bodily Injury and Uninsured Motorist insurance. "BI" covers you if you cause physical injury to a person, and "UM" covers your injuries if you are hit by an uninsured or under-insured motorist.  In The Villages, you need this full coverage to protect you and your family. Don't trust that the other golf cart, LSV, or automobile has the right insurance to cover you.
Third, LSVs have to be equipped with the same type of safety equipment as an automobile:
Headlamps; Front and rear turn signals; Stop lamps; Tail lamps; Reflex reflectors, red – one each side and one on the rear; Exterior mirror on the driver side and an interior rear-view mirror or exterior mirror on passenger side; a Parking brake; a Windshield; and a Seat belt for each designated seat.
If you are injured in a golf cart or LSV, contact us at www.GolfCartAttorney.com (Law Offices of Frank D. Butler, PA). We are local to you in The Villages. 367 Fennell Boulevard, Lady Lake, FL 32159. Next to Miller's Ale House on U.S. 441.
Contact us now. We are ready to help you now.
Call us at 352-633-6900.