Golf Carts in Dunedin, Florida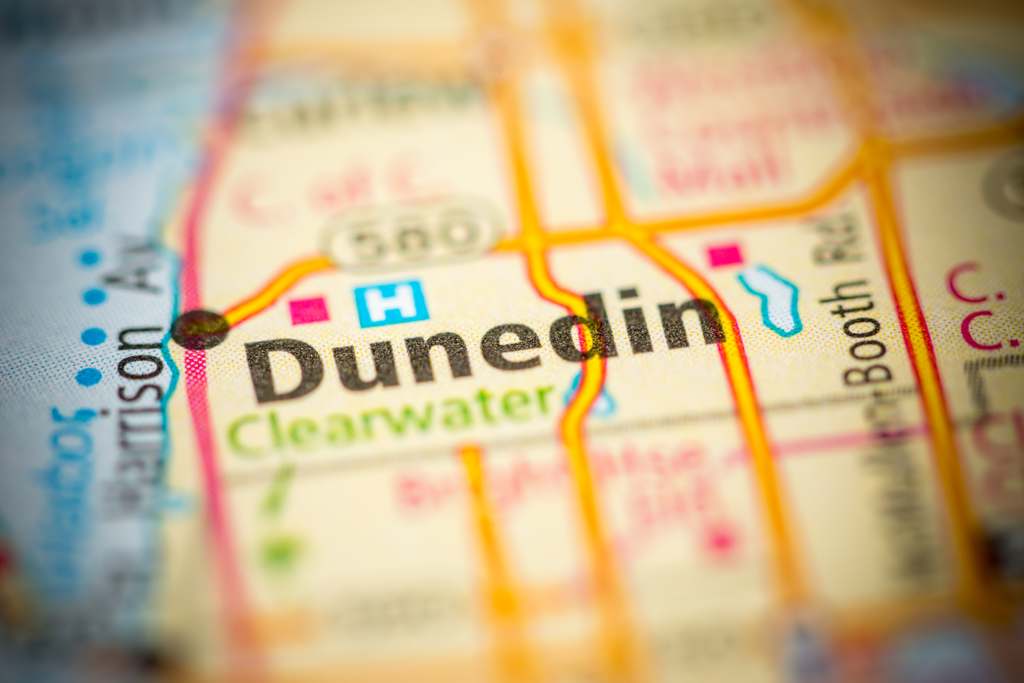 In the summer of July 2011 the Dunedin City Commission adopted a rule to allow the use of golf carts in the City of Dunedin on certain designated streets. The use of golf carts on the streets of Dunedin is not without limitation.
Golf Cart Laws in Dunedin
First, in order to legally operate the golf cart on the designated public roads in Dunedin and to get your required registration decal from the City, you must have:
Proof of ownership of the golf cart.
The owner must have a valid driver's license.
Proof of liability insurance.
The owner then has to show by affidavit that he/she has working brakes, steering, a horn, tires, rearview mirror, and red reflector warning devices on the front and rear.
For after-dark golf cart users the golf cart also must have brake lights, headlights, turn signals, and a windshield.
There is also an annual $10 registration fee to get the decal which goes on the rear fender of the golf cart.
Second, the City has designated only certain streets and areas as golf cart legal. Check with the City of Dunedin's official golf cart map—because since Dunedin first allowed golf carts in 2011 they have expanded the area included in golf cart use. Generally speaking the geographical area where golf carts are allowed in Dunedin the borders are as follows:
Curlew Road on the North.
Bayshore/Broadway/Edgewater to the West.
Union Street to the South.
Keene Road to the East.
Legal Roadways
Note that none of these above-stated roads are considered to be golf-cart legal in Dunedin. These are the boundaries of legal golf cart use. Also take note that within this boundary area described above there are several roads which also are not golf-cart legal. They are Patricia, Main Street-Skinner, and Virginia. There are designated crossing points to go over these excluded roads, but the City of Dunedin has not assigned these as golf-cart legal roads. The City is also limited by the Florida Department of Transportation's rule and Florida Statute that any road which is used by golf carts must have a speed limit of 35 m.p.h. or less. The most you can legally do on the named excluded golf-cart roads are to cross them at the assigned cross points.
The City of Dunedin & Golf Cart Accidents
The City of Dunedin notes that, like driving an automobile, it is not a right to drive a golf cart within the City, it is a privilege. It is much easier for a privilege to be revoked than a right. Only recently Mayor Julie Ward Bujalski noted in the Tampa Bay Times a rise in complaints of unsafe golf cart operation. This included her own personal observation of someone driving down Pinehurst Road in a golf cart while holding a baby. She's right; people should not be driving in a golf cart holding a baby. She also noted the Florida Statute requiring staying off roads where the speed limit exceeds 35 miles per hour does apply within the City of Dunedin.
The City of Dunedin is very wise to require the owner of the golf cart to have liability insurance in order to get a decal to operate the golf cart. Golf cart crashes, ejections and rollovers tend to be very serious injury cases. Golf carts typically have minimal safety equipment to protect the occupants of the golf cart. When a golf cart crash occurs resulting in golf cart injuries to the occupants or to a pedestrian you want to know that the at-fault party does have liability insurance.
We handle golf cart injury cases. We know the law on these issues. We pursue drivers and owners of at-fault golf cart crashes who cause injuries to you and your family.
We are ready to help you right now.