String of Golf Cart Crashes Causes Fresh Concerns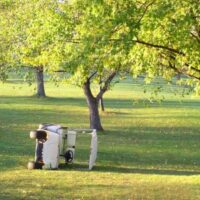 A string of new golf cart crashes across the nation has raised fresh concerns about the safety of these vehicles, the reliability of their drivers, and widespread negligence on our roads. Many of these crashes occurred in Florida, a state home to a wide range of golf courses. If you have been injured in a golf cart accident in Florida, you might be wondering how you can possibly pay for your medical expenses, missed wages, emotional distress, and other damages. The good news is that you are not alone in this fight.
Citrus Hills Golf Cart Crash Proves Deadly 
On July 1st of 2023, it was reported that a man had lost his life in a deadly golf cart crash in Citrus Hills. Police say that he was "thrown from his cart" after an SUV turned into his path. The cart was apparently traveling in a bike lane, which means that it wasn't even on the main road when it was struck by the passenger vehicle. The SUV seems to have cut the golf cart off when making a turn, possibly suggesting that the SUV driver failed to shoulder check. Whatever the case may be, the 61-year-old golf cart driver later succumbed to his injuries in hospital. There is no word on whether the SUV driver will face any legal consequences, although they were unharmed by the collision.
Villager Charges with DUI in Connection with 2022 Crash 
On June 30th, it was reported that a Villager had been charged with a DUI in connection with a 2022 crash. Thankfully, the crash only affected the golf cart operator, and no one else was hurt. The driver apparently lost control of the cart in a parking lot, crashed into some shrubbery, and fell out of the golf cart. The  driver later claimed that he didn't remember anything about the incident, which isn't surprising considering he had a BAC more than double the legal limit at the time of the crash. Although only the driver was hurt in this incident, it could have been much worse – and  intoxicated golf cart drivers are a constant threat in The Villages that put innocent people at risk.
Other Golf Cart Crashes from Across the Country 
In other news from across the nation, two people were injured in a South Carolina golf cart crash on July 2nd of 2023. On June 28th, it was reported that an elderly man driving a golf cart had been struck and killed by a drunk driver in North Carolina.
Where Can I Find a Golf Cart Attorney in The Villages? 
If you've been searching for a qualified, experienced Florida golf cart accident attorney, look no further than www.GolfCartAttorney.com the Law Offices of Frank D. Butler. Over the years, we have helped numerous golf cart crash victims. We know that these accidents can be life-altering and traumatic, and we're ready to guide you toward the compensation you need. Sometimes, these crashes can even be fatal, leaving families with grief and unpaid expenses. Whatever the case may be, you can move forward with a sense of confidence and efficiency by booking your consultation today with our golf cart attorneys.
Sources: 
wfla.com/news/local-news/citrus-county/hernando-man-dies-after-suv-strikes-golf-cart/
villages-news.com/2023/06/30/villager-charged-with-dui-in-2022-golf-cart-crash-at-laurel-manor/
counton2.com/news/local-news/driver-passenger-transported-after-golf-cart-crash-in-downtown-charleston/
charlotteobserver.com/news/state/north-carolina/article276826361.html