Hit By a Golf Cart in The Villages: Can I Get Compensation?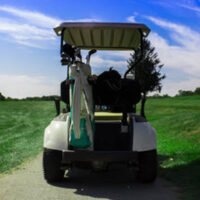 Golf cart drivers in The Villages pose a threat to pedestrians and to other golf cart operators– especially if these small vehicles are being operated in a negligent fashion. It is no secret that seniors and intoxicated individuals favor golf carts, as these vehicles offer lower licensing restrictions. But can you really pursue compensation after being struck by a golf cart in Florida?  Yes. While there are some challenges involved (especially in regards to insurance), this is certainly a possible course of action after suffering injuries.
Golf Cart Driver Faces Civil Action after Striking Villager 
On October 22nd of 2023, Village News reported that a golf cart driver was facing a civil action after striking a pedestrian. Apparently, this pedestrian was standing next to a parked golf cart when someone driving a different golf cart approached. The plaintiff claims that this golf cart driver was operating their vehicle in a negligent fashion, and that they struck the parked golf cart. This in turn caused a domino effect, with the stationary golf cart being thrown forward in such a way that it hit the pedestrian.
The plaintiff is now seeking compensation for her various damages, including medical expenses, loss of earnings, and pain & suffering. She claims that she was hospitalized as a result of the crash, and that she now has a lowered ability to earn a living. In addition, she alleges that the crash made a pre-existing condition worse. As a result, the plaintiff is seeking damages in excess of $50,000.
This report demonstrates that it is possible to seek compensation after being struck by a golf cart in The Villages. However, just because a civil action is possible, this does not necessarily mean that it will be successful. Filing a lawsuit and winning a lawsuit are two very different things – and there are a number of potential challenges when pursuing compensation against a golf cart driver:
Potential Challenges When Pursuing Compensation Against a Golf Cart Driver 
Lack of Insurance: One major challenge may involve the lack of insurance – potentially for both the golf cart driver and the pedestrian. An at-fault golf cart driver's Car insurance may not apply to drivers in golf cart accidents, and that is why you need an experienced golf cart attorney. Pedestrians may have the ability to turn to their own car insurance – if they have auto insurance.
Net Worth: If the at-fault person has no insurance, another potential issue is the net worth of the driver of the golf cart. If the driver has no insurance, you need an attorney who can determine if the at-fault operator has the assets to pursue compensation against them.
Hit-and-Run: Hit-and-runs may be common among golf cart drivers. Those who cannot track down the individual responsible for their accident may also struggle to pursue compensation. The truth is that most hit-and-run golf cart at-fault drivers are eventually located and prosecuted. It is important to pursue your golf cart injury claim as soon as possible so that valuable information from witnesses, video, and on-scene evidence will not be lost.
Where Can I Find a Qualified, Experienced Golf Cart Attorney in The Villages? 
If you've been searching for a qualified, experienced Florida golf cart accident attorney, look no further than www.GolfCartAttorney.com (Frank D. Butler, Attorney at Law). We know that golf carts are capable of causing serious, life-altering injuries for innocent pedestrians in The Villages. With our assistance, you can explore options for compensation and justice. Book your consultation today to discuss the best course of legal action for your important case.
Source: 
villages-news.com/2023/10/22/villager-sues-golf-cart-driver-after-allegedly-being-struck-in-accident/